Greg,
I had the 3.5" (loud) system installed about one and a half weeks ago, along with pacemaker tri-y's and hi-flow metal substrate cats... Just wanted to let you know i'm absolutely WRAPT with it! Sounds unreal... not too loud when cruising, but she really growls when you open it up! And you don't get any drone inside the car at all if you're in the right gear... Now she sounds like a V8 should, turns heads everywhere I go, and my missus LOVES it. Very impressive mate, keep up the good work!
Cheers
Steve.
---
Dwayne - TAKEITEZ: -
Hi to everyone reading this... I'd just like to give a huge shout to Greg and the team at Sureflo for a BLOODY BRILLIANT EXHAUST....... I have just finally finished fitting the sureflo twin 2.5" mild steel medium system to my VY II HSV Maloo ute and i couldn't be happier with the system, the sound, the performance, the WORKS. I got some HPC coated Pacemaker Tri-Y's... the big cats... and the twin 2.5 system... I fitted the extractors, cats, and pipes myself but left the rear resonators off for a while till i could get the tips welded on... went to an exhaust shop, got the tips put on nice and neat and mate what a thing... wow... i can't stop driving with the windows down, even in the pouring rain. And there lies the greatest thing about the system... My ute is automatic (i know, nanny tranny and all that) but i needed a system that wouldn't be too loud in the cabin, and most importantly would not drone... I emailed greg a few times and bought the entire system as he recomended it... so... did i get what i wanted? YES. I have a car that is comfortable and quiet at all speeds on a light cruise with the windows up or down. On a medium throttle with the windows up you get a slight burble through the cabin, not a lot louder than the factory HSV system but a 'better' note... windows down - nice! Full throttle windows up its not even loud... its beautiful and a really sweet note, isn't excessive in the cabin, can easily talk over it on full throttle and then bop bop it smacks the limiter and slides into the next gear... sweet... windows down - WOW, what a crazy note... sounds nothing like any twin systems i've ever heard... no clapping like some, and a really funny sound that is just awesome! its gotta be that 'full flow merge pipe'... BRILLIANT so anyway... excited about this 'no drone guarantee' i jumped on this bandwagon... i am planning a trek from perth to melbourne onto the boat to tasmania to move west - east and will be driving across... 3500kms with a drone would do your head in, so i jumped on the freeway and speed ranges from 90 - 120kph there is ZERO DRONE... not a whisper... the noise is heard where it matters - at the tail pipes!!!!! anyway, i was interested if there would be any performance gains, after all this money spent i was hoping so... but the noise was more important. heading out to kwinana i went from a 13.89 to a 13.51 and picked up 3mph too to get to 104mph... the big black dyno doesn't lie... and i'm a fan! so this is a huge thankyou to Greg and all the team at sureflo you know your stuff, build good gear, and make customers like me VERY happy. thanks! Dwayne - TAKEITEZ
---
Troy: -
Hi Greg,
I had a 2.5 inch catback system fitted last week and I just had to let you know how happy I was. I am in the motor industry myself and deal with all types of businesses within the industry and I reckon you have been the easiest to deal with so far. Getting back to the car, it sounds horn and has done alot for the overall performance and driving pleasure. I had previously had a single 3.5 inch fitted to my old VY SS ute by your workshop and I thought it was great, but I prefer the dual 2.5, personal preference. The car itself has become a total different experience to drive (even though I have owned it 2 weeks it has done only 600kms ) I find myself having to drive in one gear lower than normal just to hear the sound.
Only one speeding fine to report so far. I have never found myself to be writing such emails or letters as this but I would be more than happy to provide any recommendation or testimonial to be used in advertising etc. and I look forward to doing business with you in the future.
Thanks,
Troy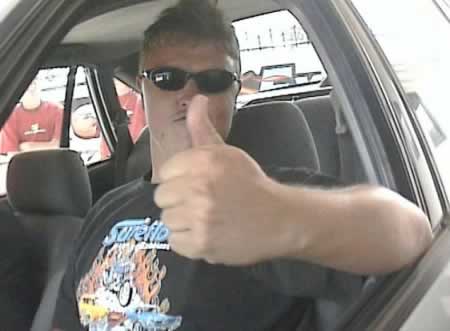 Skitz: -
VS V6 Auto; Extractors, Twin Cats, Custom Sureflo System, Heads and Cam - F&rk1n' awesome, 198RWhp out of a 6 banger, I beat most of the 5L V8's on the Dyno day!!! Wait till I get my custom tune...
---
Lautray: -
You can't go wrong with a Sureflo Custom Exhaust. No drone whatsoever & makes great v8 burble.
---
Ricko: -
Rick is one happy chappy. Well worth the drive (5hrs each way). Lots of fun going home sounds extra good echoing off concrete walls on overrun!
Thanks again to Greg and the Sureflo team, who were helpful and informative, and didn't mind answering my myriad of questions. It was great to finally get on a Dyno too, although i can feel the difference on the road, its good to get some numbers to comlete the picture. All on 95RON PULP too.
Rick
---
Carneb: -
I got my new exhaust installed by Sureflo on Monday. I went with Pacie 1 5/8" Try-y extractors with HPC coating, cats opened up, and dual 2 1/2" custom system in stainless.
I'm very happy with the system. It sounds awesome at idle, and even better with a few revs on board. I went for the quiet system, but it certainly isn't quiet. At cruising speed it's no louder than the standard exhaust, but when you give it a bootfull it roars! And there's definitely no drone. I had a before and after dyno run. I was getting 198rwkw before, with standard exhaust, two hole mod, K&N and GTS MAF pipe. After the new exhaust power rose to 216.5rwkw. I think thats a very worthwile gain, and what makes it better is you can also feel the extra torque through the seat of your pants. Overall I'm very happy. Now I have to save up for an edit, and answer the age old questions - Maffed or Maffless? , Dicks or Sams?
Carneb
---
VXSS: -
Thanks to Greg and the Boy's at Sureflo; Great job on my new dual 3 inch system. Sounds great, looks great.
---
PsychoChicken: -
Hi Guys,I was there for the early stages of the edit, and I can tell you they are a great bunch of guys who accomodated me getting in the way and asking stupid questions. Glen's CV8 is gorgeous and I will be following suite with at least the exhaust in the next couple of weeks. That was one quick car! Strong in every gear, at every RPM. Well done Glen and the guys at Sureflo and Dick's. One thing I can vouch for is, regardless of numbers, that car, even with 3 people on board, makes my car feel like its standing still, no stock or slightly modded Gen III's that I've tried have come near it!
---
PhantomUte: -
I put a single 3 1/2" cat back on my ute from sureflo, sounds great, has slight drone (only in 6th when i should be in 5th!!!) picked up 12 rwkw on a hotter day than when it was first dynoed, fits great, looks great and made the car feel like i gained 50kw!!!! love it!!!!p.s, its not too loud, you step on it and it doesnt attract any unwanted attention from "you know who" but still lets u know theres 8 cyl in it.
---
PTVYSS: -
After months of trying I finally got down to Sureflo (2hr drive) to get a cat back system on the ute. I decided to run with the custom twin 2.5" stainless system and it was well worth the drive, it sounds awesome, and the quality of work was top class. I haven't put it back on a dyno, but by the SOTP method it feels better better all over especially bottom end and midrange. For anyone looking at getting a system done I can recommend Sureflo, they also have a good selection of systems to choose from. Their top end stuff isn't cheap but quality rarely is. Thanks to greg and they boys for a top job.
P.S - No this isn't a paid infomercial! Any Q's feel free to pm me.
---
LS1SV8: -
Got a stainless steel exhaust for a VN V6 off these blokes about 6 years ago. It was the best price going at the time and really good advice as well.Markalan, thanks for posting this. I had forgotten who did the exhaust last time. The web URL will now be a favourite on my browser.
---
Scotty: -
Thunder [a.k.a Greg from Sureflo] fitted his custom dual 2.5" ss cat back exhaust to my ride two weeks ago. I went for the mild option and love it, I had a stupid grin the whole way home. As others mentioned, very helpful.Thanks again Greg.
---
Markalan: -
Highest quality exhausts in Sydney! (or just out of Sydney). After looking around for a few months i finally found an exhaust shop the cuts through the crap and gives you what you ask for. I run around on weekends looking at different workshops and talking to so many so called "experts" that i think i was so disenchanted with the idea of leaving my pride and joy with some of these spanner monkey's that i nearly talked myself out of getting it done. Then i took the advice of some of the guys on this site and pay a visit and (after phone call) to Greg at Sureflo Exhaust's. Greg took the time to sit and talk to me about what exactly i was trying to achieve with the new system and then to advise me on the different setup's that could be used to get THAT result. A lot of the other shops were try to sell me what they wanted and didn't want to listen to my needs. So a big thanks Greg to you and all your staff. So your looking for an exhaust for that beast of your you could do a lot worst then Sureflo. They even have a web site (which i found out about later http://www.surefloexhaust.com.au have a look!!!!!)
---
Skully: -
Sureflo did the exhaust for my old 5L wagon, excellent results and virtually no drone as I asked for. The pricing was competitive and the pipe work was very professinal, not shortcuts taken. Very happy, thanks Greg.
---
SUTE03 - Holden VY1 SS Ute: -
Just had my Dyno today at Sureflo, I must thank Greg & his guys for an excellent job done today on my exhaust. Good work guys.
---
Greg,
Greg here with the 6.3LVT SS here, just wanted to let you know things are going well with the exhaust. I have more clearance than the old exhaust and it sounds much better and it is not droning when you are just cruising along. All in all I am a happy customer. Thanks Again.
---
Ross Alexander - VX SS Gen III: -
A couple of things mate.... I just saw the Car on the web page and it comes up well. I had only listened to the clip through tinny little speakers on my laptop and it didn't sound all that flash. Tonight I listened to the clip for the first time both using decent sound card and speakers and what can I say...f*#@ing awesome..... I know it sounds good in the car but I haven't heard it from outside...I haven't let my mates drive it yet.. I have now done 2000kms with the exhaust and it has gotten a bit deeper. At 100-110 kms no drone at all unless under load, and it starts to work up a bit of noise around 125 kms or so.... At 100k's overtaking at WOT it kicks down to second, revs straight to 6000 rpm before changing up and shoves you back in the seat. Bloody beautiful!
To see this car visit the Video Clip page - VX Dyno.
---
Another Happy Customer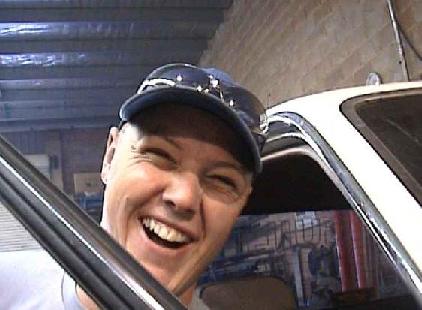 His first words after starting his ute was "You f#@kin Beauty, this sounds awesome!!". After taking it for a drive he said "the power increase is incredible, I love it".
Mick
---
Gen 3 Monaro
Drove all the way from Lilyfield to take me for a drive in his new Monaro. He said "The Sureflo exhaust system is the best investment i have made since buying my new Monaro. I drive with the window down most of the time so i can hear the wonderful sound. Everywhere i drive people turn their heads to look at my car as soon as they hear the exhaust. I'm rapt in my new exhaust. Thank You!".
Paul C - Lilyfield
---
Thanks go to you guys at Sureflo for helping me out with my exhaust system, cold air induction and Memcal upgrade on my VS Commodore.
The Car has an awesome note and has picked up a lot of mid-range torque ... i noticed a difference when i had the extra catalytic convertor added to the system, twin cats are definately the way to go, it changed the sound of the car too, gave it a bit more of a deeper note, what i didn't want was an exhaust that sounded like a straight through engine pipe, with that crappy BLAH sound ... the exhaust was fitted, definately is NOT that!
The car was dynoed at 123.5 rear wheel Kw or 165.6Hp at the wheels ... Quite impressive for a stock V6 ... i ran the car at Eastern Creek and the car pulled at E.T of 15.9 @ 87mph.
A mate of mine has a VS Clubsport, and he struggled to beat me, he wasn't too happy, he did end up leaving me for dead topend, but hey ... i only had a stock 6!
I have since modified the car a little more, headwork, cam etc ... and the car goes like an animal ... thanks for your support with my car guys ... Cheers!
Craig D - Narellan Vale
---
Name - Jim Bible
Car - Sluggish 1998 VT 3.8 V6
System - Pacemaker extractors, twin cat 2.5 inch system with custom made mufflers, K&N filter plus upgraded memcal. Cold air induction to follow soon. Thanks to Greg at Sureflo for getting my sluggish 3.8 V6 to get up and go much better. I was prepared to travel the 3 hours from Canberra to Ingleburn because of the honest and unbiased info I was getting from Sureflo. I wanted low end to mid range performance without the noise so custom made mufflers were fitted to keep the annoying noise down. Also, a very informative website with lotsa info, gave me the confidence to take the trip out of town. The power is certainly much more noticable and gives the 3.8 some balls !! Once I fit cold air then I'll get the VT dyno-ed and let you know the results. Thanks again Greg...Cheers !!
Jim B - Canberra