LSX Performance Exhaust Systems

Systems for all Budgets and Tastes


Exclusive 3-1/2" system to suit VT – VZ:

This system can be made in mild steel or stainless steel and can be made in different sound levels: loud, medium/loud, medium and the quieter version.

We have shipped hundreds of these systems all over Australia and even exported some.

There are many video clips on Youtube from our happy customers and plenty of feedback on the Commodore Forums.

I know of at least 3 cars pushing 400rwkw using this system because it sounds great and is drone free.


Here are 3 of my favourite video clips:


SV8 Commodore - Customer enjoying his car

Loud 3.5" system (customer enjoying his car)
If you want to see more of these systems, and lots of other video clips, search on Youtube for "Sureflo"
Many happy customers have also posted up their own video clips featuring our exhaust systems.

These 2 dyno sheets show the gains that can be made with our 3.5" system.


The first dyno sheet shows the same car fitted with a dual 2.5" system compared to a 3.5" system.

.The second dyno sheet shows how just a 3.5" cat back system and a MAFless tune made 60rwkw. Both are dyno sheets from independent workshops

Dual 2½":

System with patented merge pipe which offers that sophisticated dual sound and great power increase. These systems can be made drone free, in loud, medium, and quiet to suit your taste.


All systems are available in Mild Steel and 304 Grade Stainless Steel.


We can supply many brands of Off the Shelf - cat back dual sports systems in mild steel or stainless steel. Brands including: Supercat, Redback, X-Force, Magnaflow, Genie & Pacemaker. Mild steel dual 2.5" systems start at around $500 fitted.

Benefits of a Sureflo Custom Exhaust System


Patented Merge Collector which gives full flow and increases low and mid range performance.
Mufflers are inline offset and perforated internals for full flow and maximum performance.
The biggest on our systems is 45 degrees whereas other systems have bends ranging up to 90 degrees. Our exhaust system has a straighter exit path which gives maximum performance and the least restriction.
Our Mufflers are custom made from 1.6mm material whereas the "off-the-shelf" mufflers are made from two layers of 0.5mm steel. Our custom mufflers give a nice deep sound to the exhaust system, which cannot be matched by "off-the-shelf" mufflers.
Our custom mufflers are heavy duty; all the seams are TIG welded which means that they will last a lot longer than normal mufflers.
Our Custom Stainless Exhaust Systems are made from 304 grade Stainless Steel, mandrel bent and welded with Stainless Steel wire.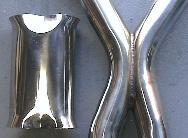 These photos show the difference in cross-sectional area between our "full flow patented merge pipe" and an X-Pipe that is commonly used in other exhaust systems. The cross-sectional area in our merge pipe is more than double that found on other exhaust systems, therefore the flow from our exhaust systems is unrivalled in performance.