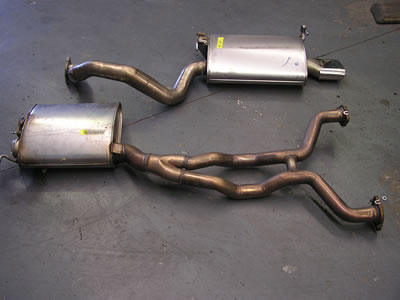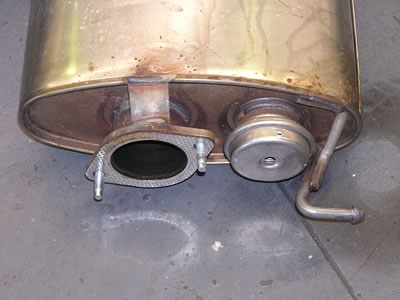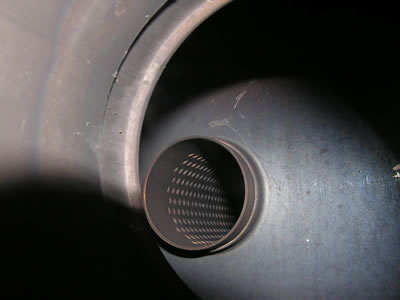 FG Pursuit Ute
Images are the standard Ford system.

The valve is spring loaded and under pressure the valve lets exhaust gas escape through the second pipe.

It takes a lot of engine power to push the valve open, which creates backpressure and robs engine power.

The standard system was replaced with a free flowing, custom made 3.5" stainless system using heavy duty custom mufflers.

These systems have a deep idle, race car growl when nailed, and don't drone when cruising.

Because we custom make these systems, we can make varying loudness systems.

The system included stainless flange joints, for easy removal, stainless hanging brackets and stainless welding.

We can also supply and fit other brands of exhaust systems, such as Pacemaker, Supercat, Redback, X-Force, Genie, etc

The best way to increase performance and fuel economy is with Extractors, Sports System, Ballistic 100cpsi Racing Cat, and a Custom Tune.
Joel can do a custom tune on our dyno, which will increase the power , torque, fuel economy and even shift patterns on autos.

Custom tuning makes the most out of all your modifications.

When we talk about Computer Tuning, it is actually reflashing the program inside your computer.

Often the standard tune is very rich, and often it still pumps fuel in while you are backing off and this causes popping in the exhaust.

If you change diff gears or wheel size, the speedo can be out of calibration and not accurate, which can lead to speeding tickets.

The computer tune can fix this, and when it is done on the dyno we log the power, torque and fuel mixtures and can print a graph off showing the improvements made along the way.

In the future, if you do more modifications, or if you have a problem, we can overlay the current graph over older graphs to trace problems, or show improvements.